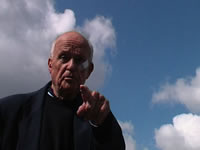 The Future of Visual Anthropology is a short film that presents the common themes touched upon during these conversations. It is a reflection on how people talk and think about the past, present and future of Visual Anthropology in 2001. The film is published on DVD with all the unedited interviews. This makes it suitable for teaching and documentation. It also constitutes a piece of Visual Anthropology that discloses its strategies of representation.
Germany 2006
15 min.
Distribution: Martin Gruber, Intervention Press,
Institute for Visual Ethnography
Festivals

Antropofest, Prague 2010
Annual Anthropology Film Festival at UBC, Vancouver, Canada 2008
Moscow International Visual Anthropology Festival 2008
Göttingen International Ethnographic Film Festival 2008
ASTRA Film Fest, Sibiu, Romania 2007
NAFA Film Festival, Trondheim, Norway 2007

Worldfilm Festival, Tartu, Estonia 2007
Read a review of the film in "Visual Anthropology Review" here.
View exctracts of the film here.