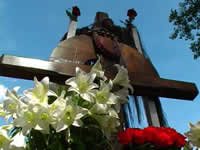 It is a common belief in the West that the bereaved have to 'let go' and 'get over' the loss of their deceased kin, in order to return to a 'normal' life. In contrast to these cultural norms, many survivors maintain strong social relationships with the dead. "Cultivating Death" portrays some visitors of Kensal Green Cemetery in West London, as they actively sustain these continuing bonds by arranging and tending the graves of the deceased, talking to them and bringing them gifts. They speak frankly about this important aspect of their mourning for which the cemetery constitutes a unique environment.
Germany/Great Britain 2003
23 min.
Distribution: Martin Gruber
Festivals
Moscow International Visual Anthropology Film Festival 2006
XIII International Festival of Ethnological Film, Belgrade 2004
ASTRA Film Fest, Sibiu, Romania 2004
SALT Experimental Film Night, 291 Gallery, London 2004
Beeld Voor Beeld Festival, Amsterdam 2004
Münster Ethno-Film-Festival, Germany 2004
Göttingen International Film Festival, Germany 2004
NAFA Film Festival, Tartu, Estonia 2004
View film here.